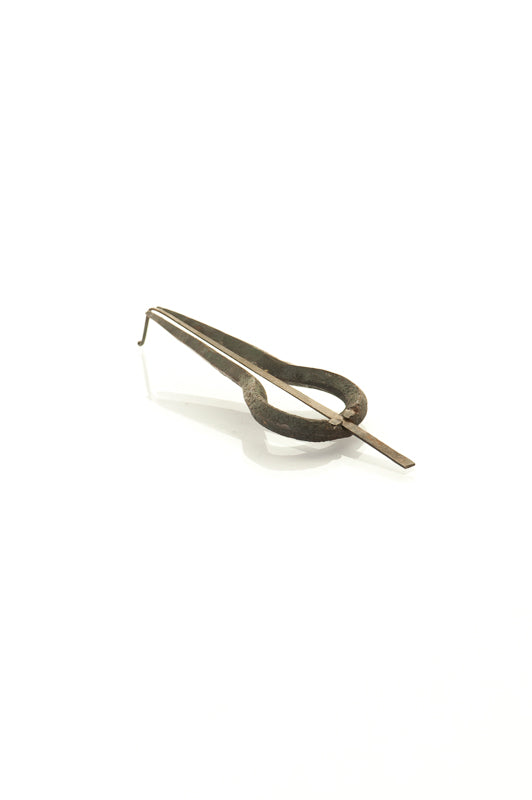 Mouth harp hand forged
Our large mouth harp is hand forged of iron and steel, the model is very typical of the Viking Age and early Middle Ages. The size is a little larger than the most common historical finds. This makes it easier to play and with a darker tone and longer vibration. The mouth harp is one of the world's oldest instruments and has been spread almost all over the world in different ages. The harp came from west Asia to Europe during the Iron Age. On Gotland you have, among other things, found a mouth piece in bronze from the Iron Age.
Our mouthpieces are hand forged by members of the Nepalese musician caste. For thousands of years they have made a living playing traditional music. Their traditions also include making their instruments.
in modern society, interest in traditional music performed live is steadily declining.
Musicians are therefore today a vulnerable population group in an already poor country. Every harp sold supports their work in continuing to be able to live according to their traditions.
Dimensions and materials
Handsmidd i Järn och med vibrator i stål.
Storlek: 11cm lång och 3.5cm bred
Shipping & returns
Free shipping within Sweden on all orders over SEK 699

Shipping costs:
Within Sweden SEK 69, Free shipping over SEK 699
Within the EU SEK 99, Free shipping over SEK 999
To Norway SEK 149, Free shipping over SEK 999

Right of return: Free return shipping and open purchase for two weeks.
Payment options
Debit card -Visa -Mastercard
Invoice and partial payment -Clear
Transfer -PayPal -Apple Pay -Google Pay
Sustainability & manufacturing
We at Nordlys always strive to do our best to have a chic production and to leave the smallest possible imprint on our planet. You can read more about our focus on the environment and people and about our thoughts on sustainability by navigating to the page Sustainability-Environment & People.
our history
Nordlys Viking is a family-owned lifestyle brand.
We create Scandinavian design inspired by the Vikings' world-famous design language. Nordlys is aimed at those of you who are quality and environmentally conscious and who like a Nordic expression. We turn to you, the urban Viking.