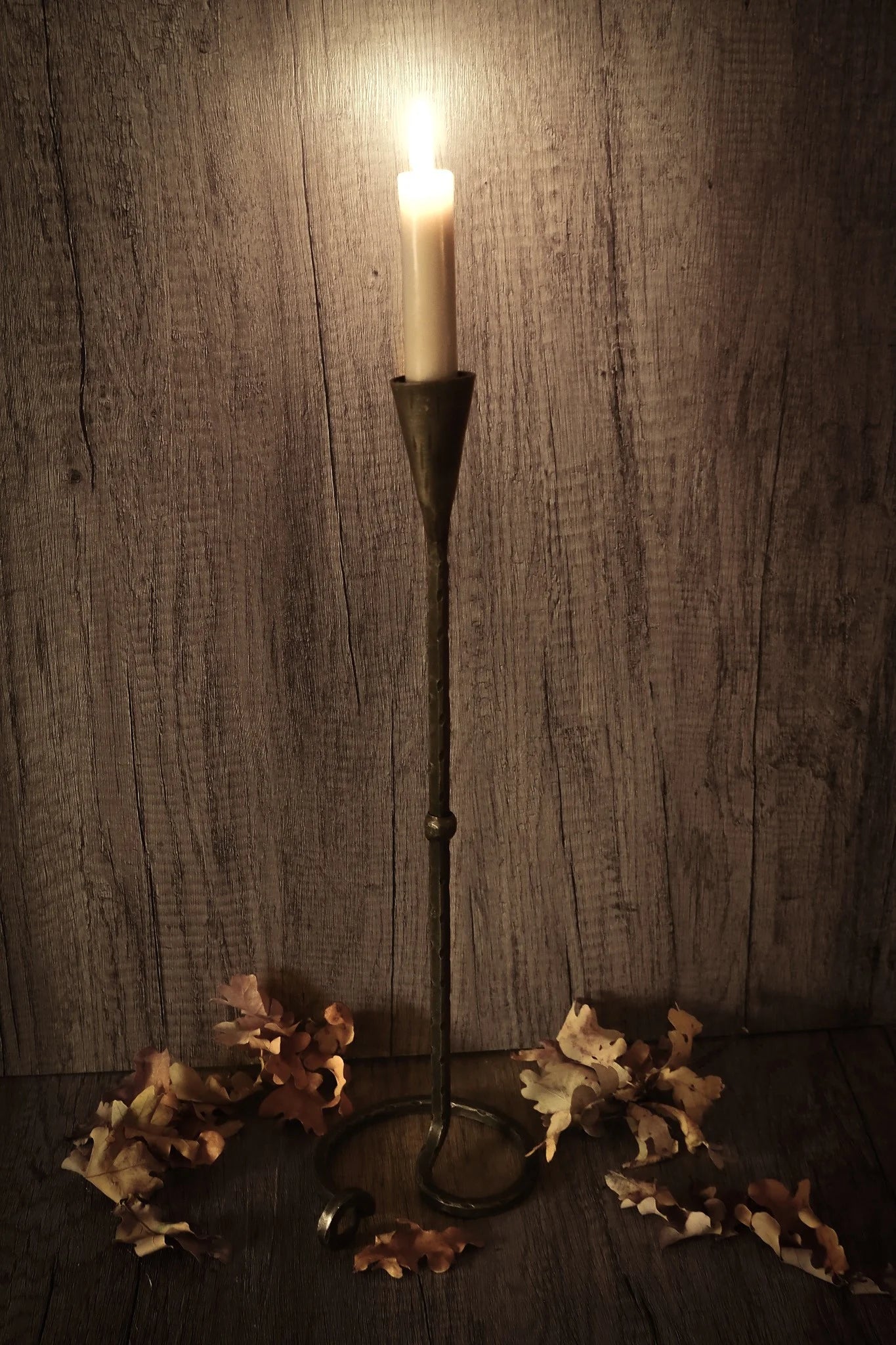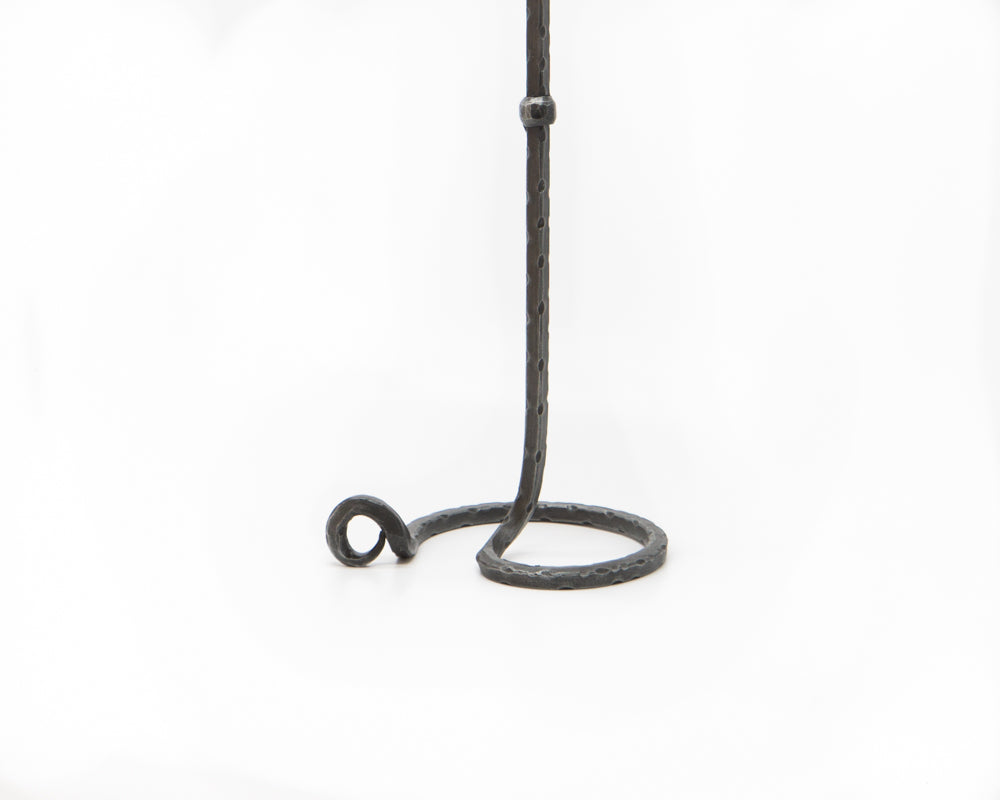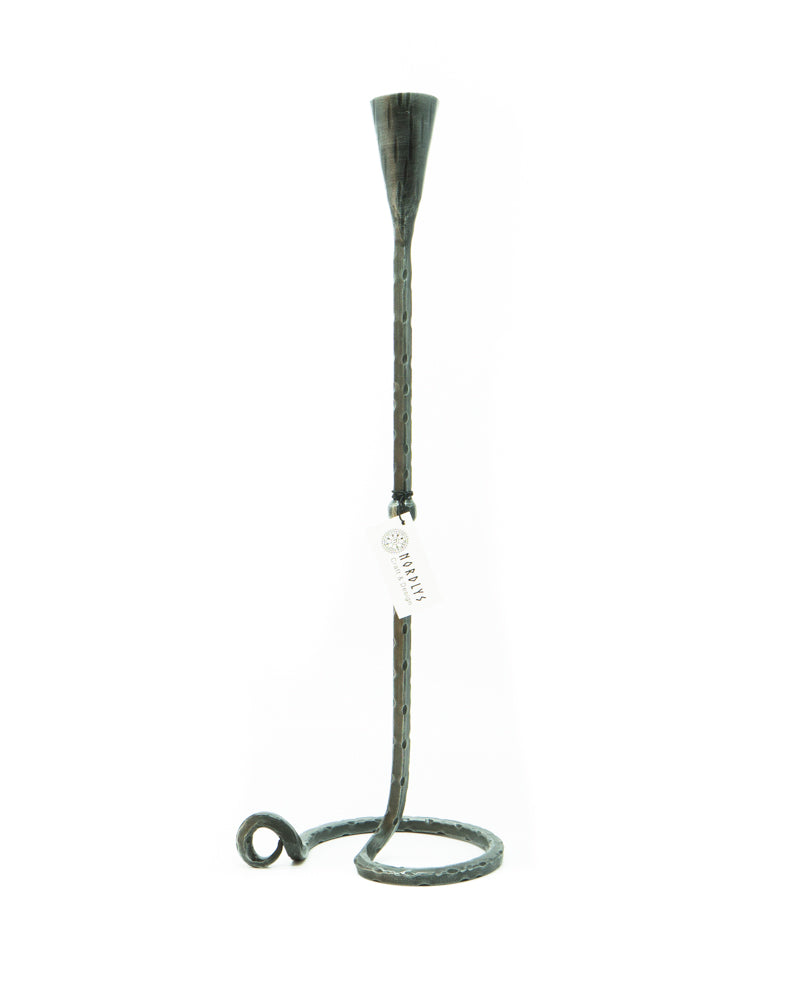 Lavateinn Candlestick
This slim and high candlestick gives a timeless and elegant feeling to any classic environment. With its heavy and spiral-shaped base, it is stable despite its height. With a design inspired by the Vikings' fairy tales, it stands elegantly in both the modern home and in a castle from the fairy tales. A welded ring on the inside of the conical holder keeps the light stable. Our candlesticks are all forged by hand in the traditional way, which gives each object a unique expression. The size of the candle holder is adapted for modern standard candles and has 22 mm as an internal dimension. The candlestick has, after leaving the hands of the blacksmith, been galvanized and treated to get a traditional look that is rust protected and which guarantees a long life with unchanged appearance.
Dimensions and materials
Material: Återvunnet järn. Handsmide
Mått: Höjd: 40 cm Bredd: 3,5 cm i toppen och 14,5 i basen
Ljushållarens inre storlek: 2,2 cm
Shipping & returns
Free shipping within Sweden on all orders over SEK 699

Shipping costs:
Within Sweden SEK 69, Free shipping over SEK 699
Within the EU SEK 99, Free shipping over SEK 999
To Norway SEK 149, Free shipping over SEK 999

Right of return: Free return shipping and open purchase for two weeks.
Payment options
Debit card -Visa -Mastercard
Invoice and partial payment -Clear
Transfer -PayPal -Apple Pay -Google Pay
Sustainability & manufacturing
We at Nordlys always strive to do our best to have a chic production and to leave the smallest possible imprint on our planet. You can read more about our focus on the environment and people and about our thoughts on sustainability by navigating to the page Sustainability-Environment & People.
our history
Nordlys Viking is a family-owned lifestyle brand.
We create Scandinavian design inspired by the Vikings' world-famous design language. Nordlys is aimed at those of you who are quality and environmentally conscious and who like a Nordic expression. We turn to you, the urban Viking.