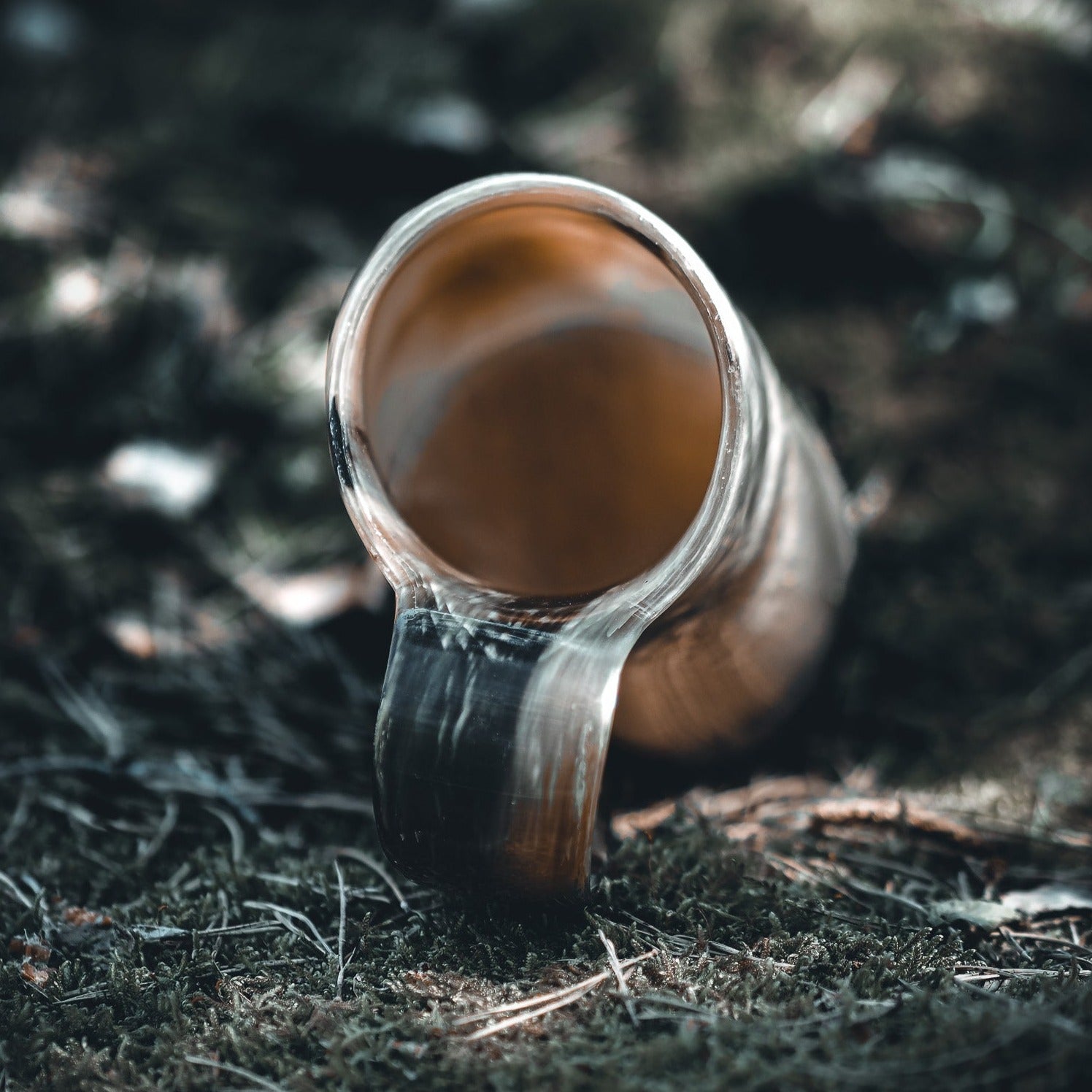 Beer mug Balder
Balder beer mug, approx. 350 ml. An authentic pagan beer mug with its slightly raw surface. Toast properly on a Viking newspaper in the company of good friends. The practical handle also makes the mug easy to hang in the belt. The model is very durable but not suitable for heated drinks. The inside is polished and lacquered. The bottom consists of food-safe resin which guarantees that it is free from leakage. Hand wash only.

Dimensions and materials
Kohorn är ett fantastiskt material som fram till för ca 100 år sedan användes flitigt till många saker. När plasten kom ersatte den horn i många bruksföremål, som man traditionellt tillverkat för hand. Förr gjorde man bl.a. skedar, kammar, glasögonsbågar och skohorn i just horn.
Våra hornprodukter görs i Uttar Pradesh i Indien, där kon anses vara helig och ingen del får gå till spillo vid slakt. Hornen rengörs, sorteras, kokas och poleras innan dom formas. Horn är mycket starkt och helt komposterbart, ett hållbart material, både för dig och miljön.

Shipping & returns
Free shipping within Sweden on all orders over SEK 699

Shipping costs:
Within Sweden SEK 69, Free shipping over SEK 699
Within the EU SEK 99, Free shipping over SEK 999
To Norway SEK 149, Free shipping over SEK 999

Right of return: Free return shipping and open purchase for two weeks.
Payment options
Debit card -Visa -Mastercard
Invoice and partial payment -Clear
Transfer -PayPal -Apple Pay -Google Pay
Sustainability & manufacturing
We at Nordlys always strive to do our best to have a chic production and to leave the smallest possible imprint on our planet. You can read more about our focus on the environment and people and about our thoughts on sustainability by navigating to the page Sustainability-Environment & People.
our history
Nordlys Viking is a family-owned lifestyle brand.
We create Scandinavian design inspired by the Vikings' world-famous design language. Nordlys is aimed at those of you who are quality and environmentally conscious and who like a Nordic expression. We turn to you, the urban Viking.