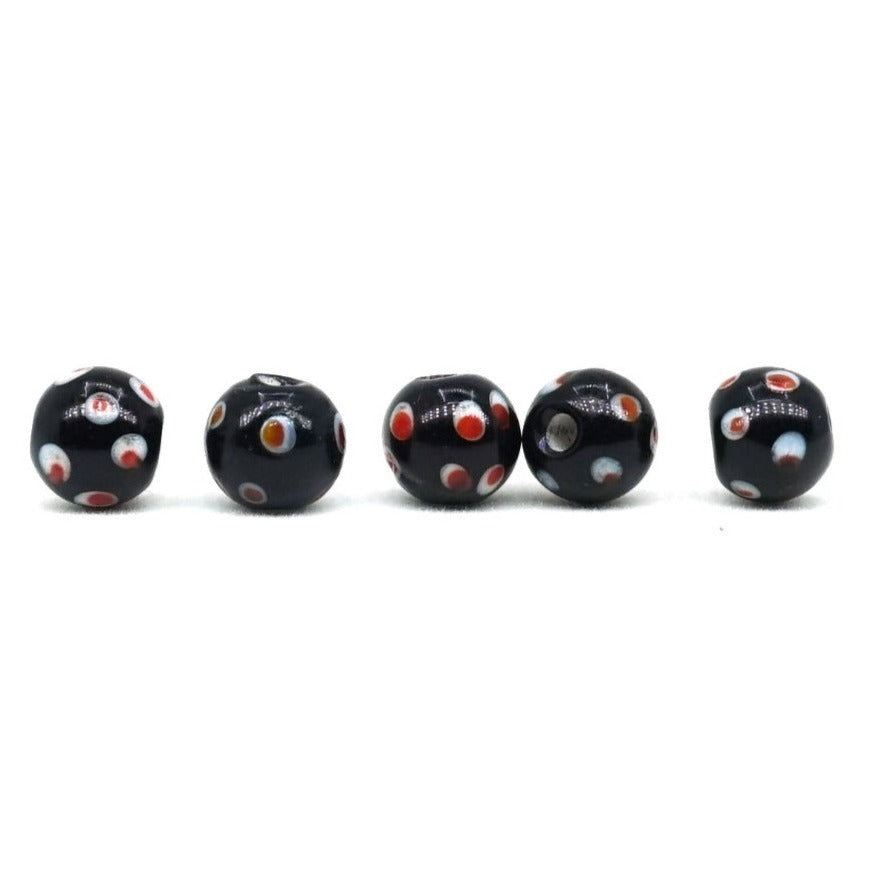 Black glass bead with pink eyes, Halltorp, shiny
Height: 10 mm
Width: 10 mm
Hole diameter: 2.5 mm
Dimensions and materials
Höjd: 10 mm Bredd: 10 mm Hålets diameter: 2,5 mm
Material: Glas
Blandade storlekar.Material: Glas
Alla våra glaspärlor är handgjorda på traditionellt vis.
Mönster och färger är inte påmålade, utan skapas av smält glas som lindas runt en gipsdoppad stålpinne.
Redan under Vikingatiden blev vi nordbor förälskade i glaspärlornas vackra uttryck och det är en kärlek vi delar med resten av världen. Processen vi använder idag är nästan identisk med den vikingarna använde. Trots att vi i Skandinavien inte hade listat ut hur man tillverkar glas.
Så hittar man tusentals intrikata och oftast lokalt tillverkade glaspärlor, vart man än letar där vikingarna farit fram.
Glaset och en del färdiga pärlor importerades från östen. Idag så sker tillverkningen av pärlorna i norra Indien, i en liten by inte långt från Gagnes stränder. Där är kunskapen kring att tillverka glaspärlor något som man är mycket stolt över och där pärlmästarna drömmer om att deras hemligheter kunna gå i arv till nästa generation. Och när medvetenheten ökar bland människor och kunder runt i världen som efterfrågar smycken i beständiga och handgjorda utföranden är det kanske inte längre bara en dröm.
Shipping & returns
Free shipping within Sweden on all orders over SEK 699

Shipping costs:
Within Sweden SEK 69, Free shipping over SEK 699
Within the EU SEK 99, Free shipping over SEK 999
To Norway SEK 149, Free shipping over SEK 999

Right of return: Free return shipping and open purchase for two weeks.
Payment options
Debit card -Visa -Mastercard
Invoice and partial payment -Clear
Transfer -PayPal -Apple Pay -Google Pay
Sustainability & manufacturing
We at Nordlys always strive to do our best to have a chic production and to leave the smallest possible imprint on our planet. You can read more about our focus on the environment and people and about our thoughts on sustainability by navigating to the page Sustainability-Environment & People.
our history
Nordlys Viking is a family-owned lifestyle brand.
We create Scandinavian design inspired by the Vikings' world-famous design language. Nordlys is aimed at those of you who are quality and environmentally conscious and who like a Nordic expression. We turn to you, the urban Viking.