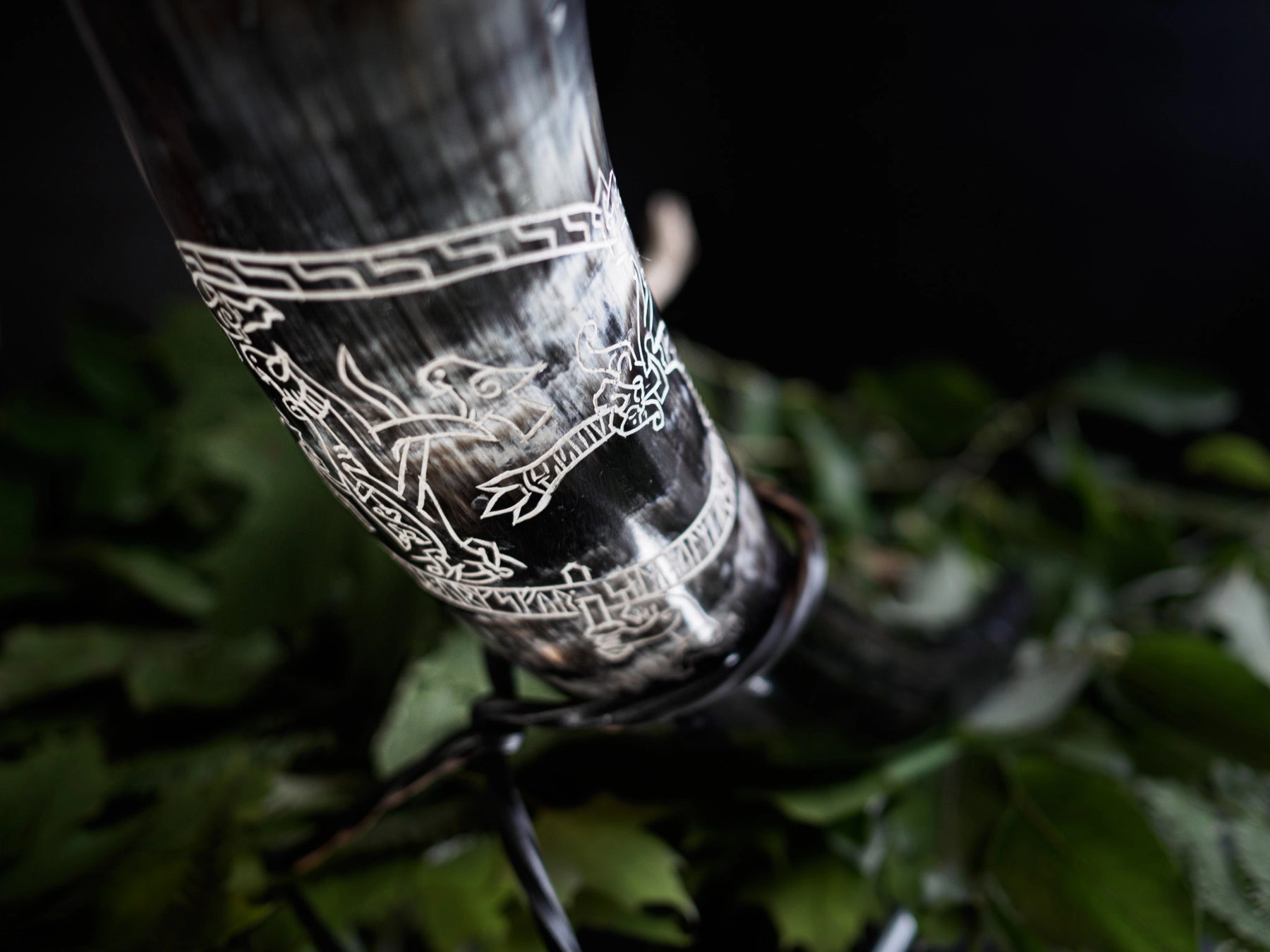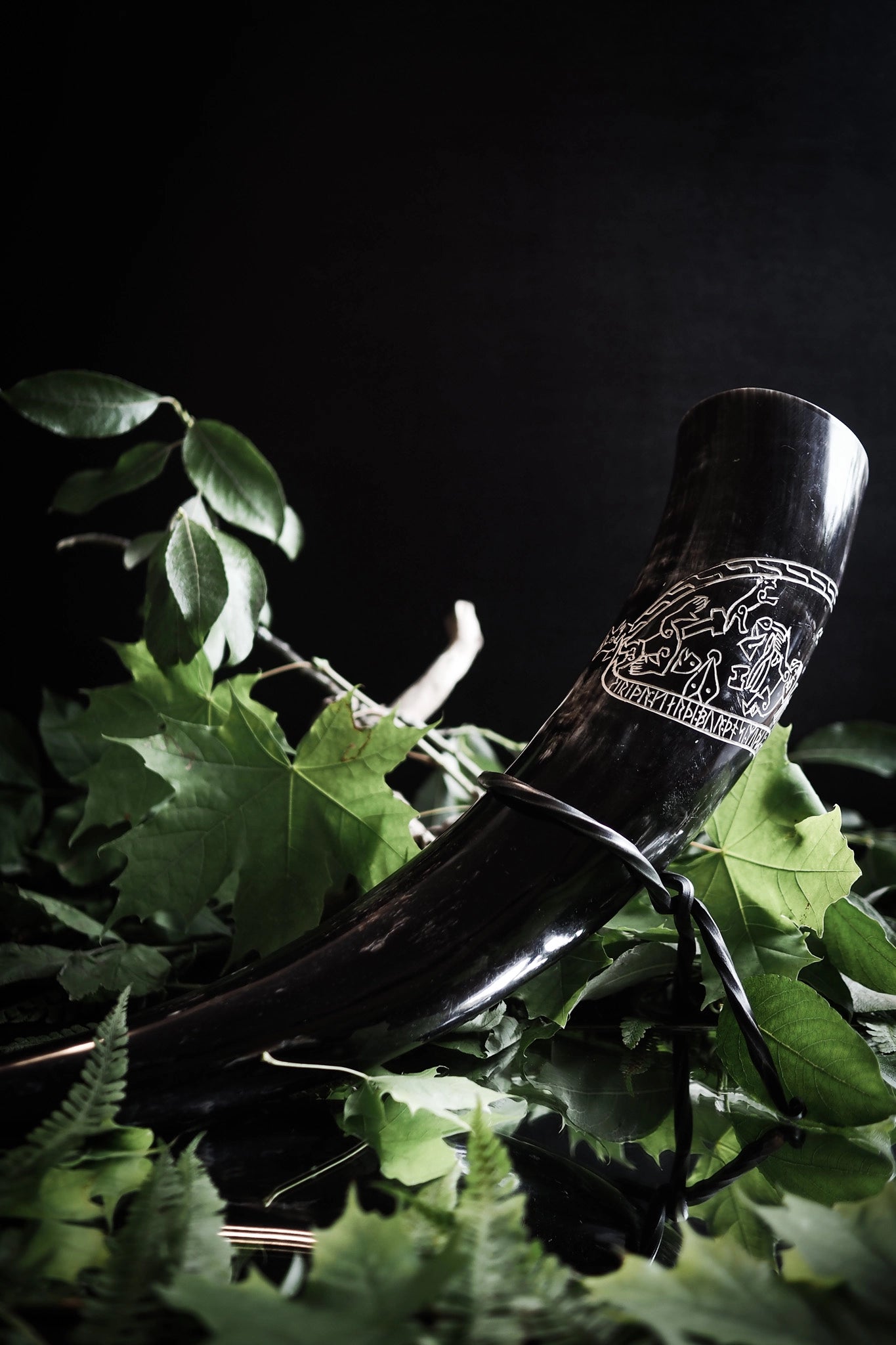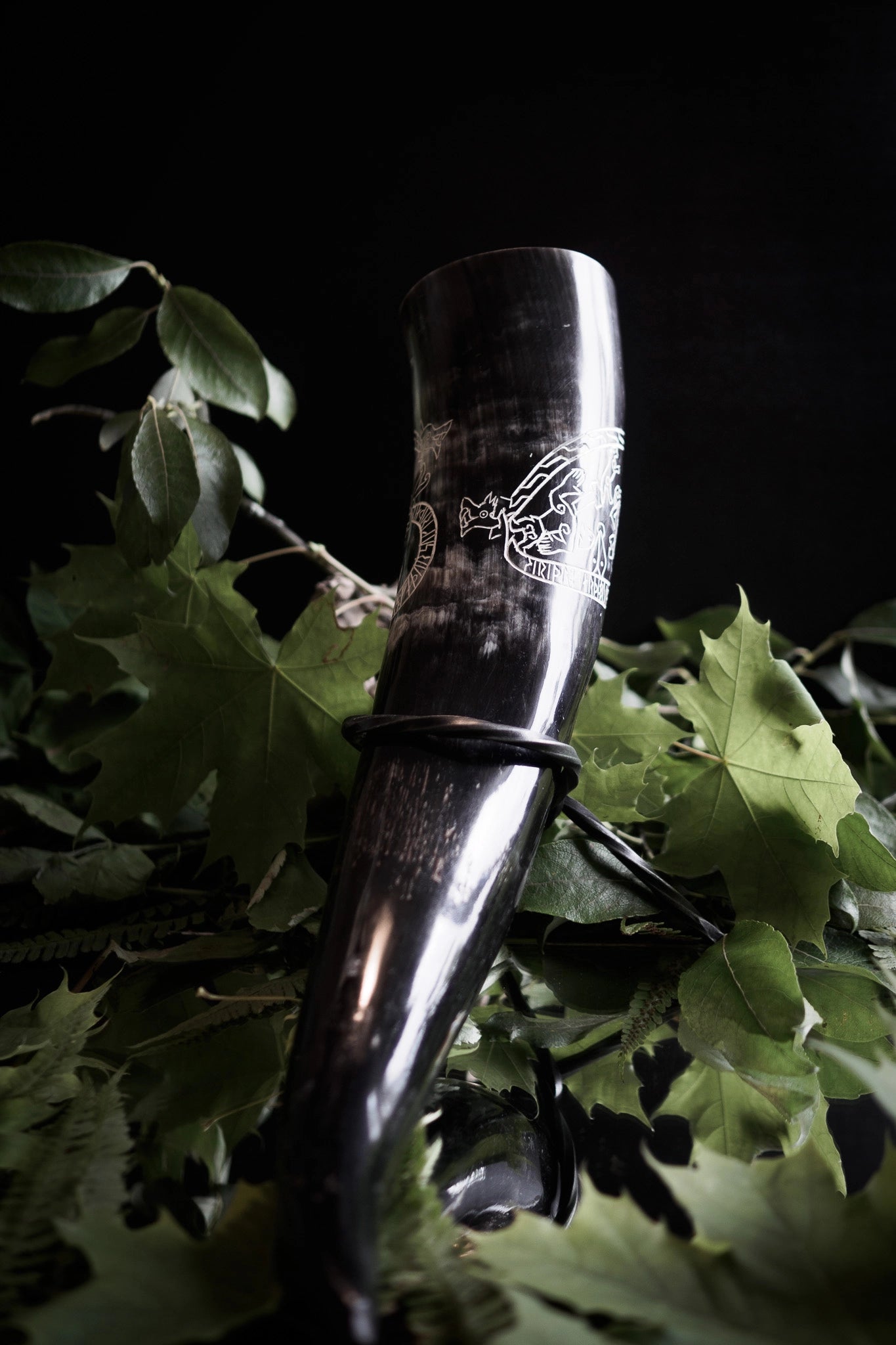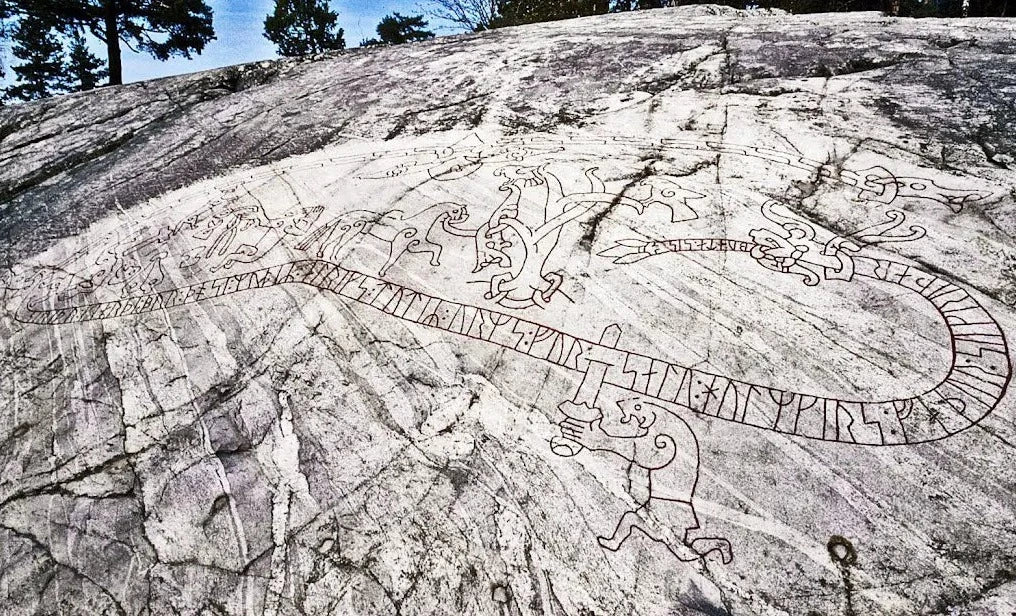 Hand carved horn - Sigurd saga
Sigurd grew up with King Hjalprek in Denmark. His father had been murdered and then his mother remarried Hjalprek's son Alf. Sigurd was raised to manhood by the king's blacksmith, who was a dwarf named Regin. As the years passed, Sigurd grew into a stately young man that few could match, and his strength and bravery were widely known. One day Regin called Sigurd to her and told him the story of her life.
Regin's father's name was Reidmar, and he was one of the richest dwarves. Regin's brothers were called Fafner and Utter. Otters could assume animal form and used to hunt and fish transformed into just one otter. One afternoon, Otter was lying on the beach in his animal form eating salmon. Then the aesirs Odin, Höner and Loki came by, who did not know who the otter really was. They wanted to spend the night with the rich Reidmar, but they could not get there without gifts, so Loki threw a stone at Utter, who died. The animal was then skinned and then handed over to Reidmar. He of course saw who they had killed and was overcome with grief and anger. Therefore, he demanded a large man's penance - the skin would first be filled with gold, and then it would be completely covered on the outside.
Nearby lived the stormy dwarf Andvare, who could also transform into animals. Loki set off and managed to capture Andvare when he was a pike. He took the dwarf's gold as payment to set him free. But Andvare tried to sneak away a magic gold ring. Loki saw that and demanded this too. Then Andvare pronounced a curse on the whole treasure, and especially the ring. Whoever owned Andvare's gold would always suffer death and misfortune.
With the treasure, Loki could pay the man's penance, but he kept the ring. When Reidmar examined the otter skin, he saw that it was not completely covered in gold – a whisker was sticking out. Then Loki put Andvar's dear ring there, and they were free.
However, the treasure was cursed, and Reidmar was murdered by his son Fafner who wanted all the gold for himself. Then Fafner transformed himself into a dragon, took the treasure with him to the terrible Gnitaheden, and laid down to guard the gold.
Regin told Sigurd all this. Regin wanted revenge, but he couldn't himself. Therefore he now asked for Sigurd's help. As a reward, Sigurd would receive the horse Grane and the magical sword Gram. With these gifts, Sigurd could then ride away and avenge his father's murderer. When that was done, Sigurd would help Regin and kill Fafner.
Said and done. When Sigurd finished his work, he went to Gnitaheden to find the dragon. Every day Fafner used to drag himself down to a small lake to drink, and where the dragon's body was dragged out a path had formed. Sigurd dug a pit in the path and lay down in it to wait for the dragon with his sword drawn. Then came a bearded man in gray clothes with a walking stick and a peaked hat - Odin. He wanted to help Sigurd and advised him to dig more pits where the blood could flow out, otherwise Sigurd could drown in all the dragon blood.
Soon the dragon came, and Sigurd drove the sword Gram right up to the hilt when the heart was right over him. In the dragon's fight to the death, Fafner recalled the curse that rested upon the treasure. When the dragon was dead, Regin suddenly jumped out of hiding. He praised Sigurd and asked him to roast the dragon's heart. Sigurd did as he was asked while Regin went to rest for a while. To feel whether the heart was ready, Sigurd put his finger to it, but burned himself. Instinctively he put his finger in his mouth and then tasted dragon blood. This made him suddenly understand what the birds were singing.
The little birds in the trees whispered that Regin had betrayed her mind, so Sigurd went all sonic and chopped the dwarf's head off. Once again Andvare's ring had brought with it those who had been friends and relatives killed each other. The treasure thus became Sigurd's, but he too was affected by the curse. But that's another story...
Shipping & returns
Free shipping within Sweden on all orders over SEK 699

Shipping costs:
Within Sweden SEK 69, Free shipping over SEK 699
Within the EU SEK 99, Free shipping over SEK 999
To Norway SEK 149, Free shipping over SEK 999

Right of return: Free return shipping and open purchase for two weeks.
Payment options
Debit card -Visa -Mastercard
Invoice and partial payment -Clear
Transfer -PayPal -Apple Pay -Google Pay
Sustainability & manufacturing
We at Nordlys always strive to do our best to have a chic production and to leave the smallest possible imprint on our planet. You can read more about our focus on the environment and people and about our thoughts on sustainability by navigating to the page Sustainability-Environment & People.
our history
Nordlys Viking is a family-owned lifestyle brand.
We create Scandinavian design inspired by the Vikings' world-famous design language. Nordlys is aimed at those of you who are quality and environmentally conscious and who like a Nordic expression. We turn to you, the urban Viking.