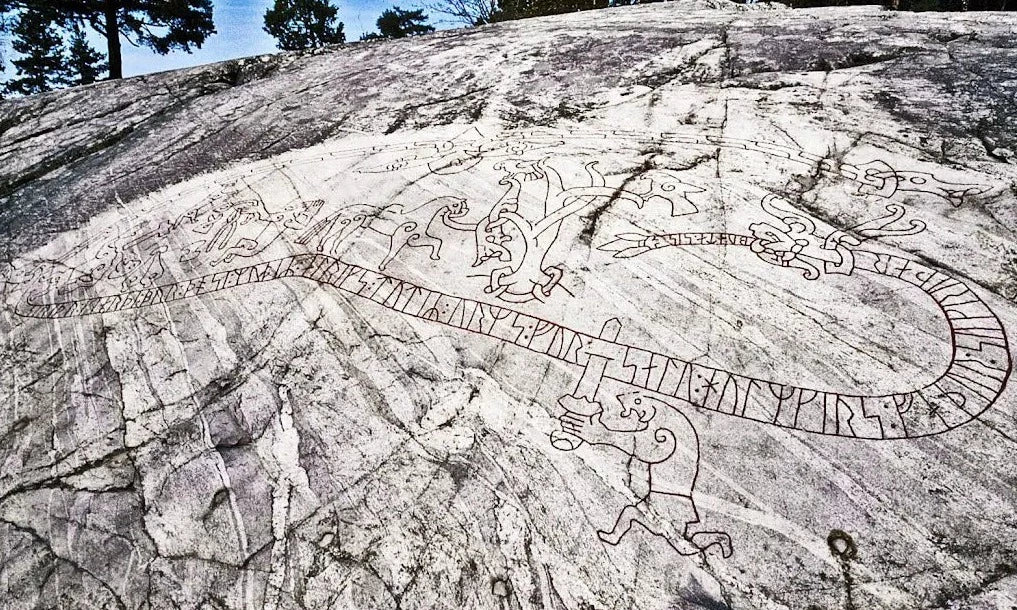 Snidadmugg, sigurdsagan ca 500 ml
Ölmugg , ca 500 ml.
Ett äkta hedniskt ölkrus med sin lite råa yta. Skåla ordentligt på vikingavis i goda vänners lag. Det praktiska handtaget gör också kruset lätt att hänga i bältet. 
Sigurd växte upp hos kung Hjalprek i Danmark. Hans far hade blivit mördad och då gifte hans mor om sig med Hjalpreks son Alf. Sigurd uppfostrades till man av kungens smed, som var en dvärg vid namn Regin. Allt eftersom åren gick växte Sigurd upp till en ståtlig ung man som få kunde mäta sig med, och hans styrka och tapperhet var vida känd. En dag kallade Regin till sig Sigurd och berättade för honom sitt livs historia.

Regins far hette Reidmar, och han var en av de rikaste dvärgarna. Regins bröder hette Fafner och Utter. Utter kunde anta djurgestalt och brukade jaga och fiska förvandlad till just en utter. En eftermiddag låg Utter på stranden i sin djurskepnad och åt lax. Då kom asarna Oden, Höner och Loke förbi, som inte visste vem uttern egentligen var. De ville övernatta hos den rike Reidmar, men de kunde inte komma dit utan gåvor, så Loke slungade en sten mot Utter som dog. Därpå flåddes djuret och överräcktes sedan till Reidmar. Han såg givetvis vem de hade dödat och blev utom sig av sorg och vrede. Därför krävde han en stor mansbot – skinnet skulle först fyllas med guld, och sedan skulle det täckas helt utvändigt.

I närheten bodde den stormrike dvärgen Andvare, som också kunde förvandla sig till djur. Loke gav sig av och lyckades fånga Andvare när han var en gädda. Han tog dvärgens guld som betalning för att släppa honom fri. Men Andvare försökte smussla undan en magisk guldring. Det såg Loke och krävde även denna. Då uttalade Andvare en förbannelse över hela skatten, och särskilt ringen. Den som ägde Andvares guld skulle alltid drabbas av död och olycka.

Med skatten kunde Loke betala mansboten, men han behöll ringen. När Reidmar undersökte utterskinnet, såg han att det inte var helt täckt av guld – ett morrhår stack fram. Då lade Loke dit Andvares kära ring, och de var fria.

Skatten var emellertid förbannad, och Reidmar mördades av sonen Fafner som ville ha allt guld själv. Därefter förvandlade sig Fafner till en drake, tog med sig skatten ut på den hemska Gnitaheden och lade sig att vakta guldet.

Allt detta berättade Regin för Sigurd. Regin ville hämnas, men han kunde inte själv. Därför bad han nu om Sigurds hjälp. Som belöning skulle Sigurd få hästen Grane och det magiska svärdet Gram. Med dessa gåvor kunde Sigurd sedan rida iväg och hämnas sin faders mördare. När det var gjort skulle Sigurd hjälpa Regin och dräpa Fafner.

Sagt och gjort. När Sigurd var klar med sitt, begav han sig till Gnitaheden för att finna draken. Fafner brukade varje dag släpa sig ned till en liten sjö för att dricka, och där drakkroppen drogs fram hade en stig bildats. Sigurd grävde en grop i stigen och lade sig i den för att vänta på draken med svärdet i högsta hugg. Då kom en skäggig man i gråa kläder med vandringsstav och toppig hatt – Oden. Han ville hjälpa Sigurd och rådde honom att gräva fler gropar där blodet kunde rinna ut, annars kunde Sigurd drunkna i allt drakblod.

Snart kom draken, och Sigurd drev in svärdet Gram ända till hjaltet när hjärtat var rakt över honom. I drakens dödskamp påminde Fafner om den förbannelse som vilade över skatten. När draken var död, hoppade plötsligt Regin fram ur ett gömställe. Han berömde Sigurd och bad honom att steka drakens hjärta. Sigurd gjorde som han var ombedd medan Regin gick för att vila en stund. För att känna om hjärtat var färdigt satte Sigurd fingret mot det, men brände sig. Instinktivt satte han fingret i munnen och fick då smaka drakblod. Detta gjorde att han plötsligt förstod vad fåglarna sjöng.

Småfåglarna i träden viskade att Regin hade svek i sinnet, så Sigurd gick helt sonika och högg huvudet av dvärgen. Återigen hade Andvares ring fört med sig att de som varit vänner och fränder dräpte varandra. Skatten blev därmed Sigurds, men också han drabbades av förbannelsen. Men det är en annan historia...
Dimensions and materials
Ca 500 ml
Insidan är polerad och lackerad.
Botten består av trä, tätad med resin, som garanterar att den är fri från läckage. Endast handdisk.
Shipping & returns
Free shipping within Sweden on all orders over SEK 699

Shipping costs:
Within Sweden SEK 69, Free shipping over SEK 699
Within the EU SEK 99, Free shipping over SEK 999
To Norway SEK 149, Free shipping over SEK 999

Right of return: Free return shipping and open purchase for two weeks.
Payment options
Debit card -Visa -Mastercard
Invoice and partial payment -Clear
Transfer -PayPal -Apple Pay -Google Pay
Sustainability & manufacturing
We at Nordlys always strive to do our best to have a chic production and to leave the smallest possible imprint on our planet. You can read more about our focus on the environment and people and about our thoughts on sustainability by navigating to the page Sustainability-Environment & People.
our history
Nordlys Viking is a family-owned lifestyle brand.
We create Scandinavian design inspired by the Vikings' world-famous design language. Nordlys is aimed at those of you who are quality and environmentally conscious and who like a Nordic expression. We turn to you, the urban Viking.