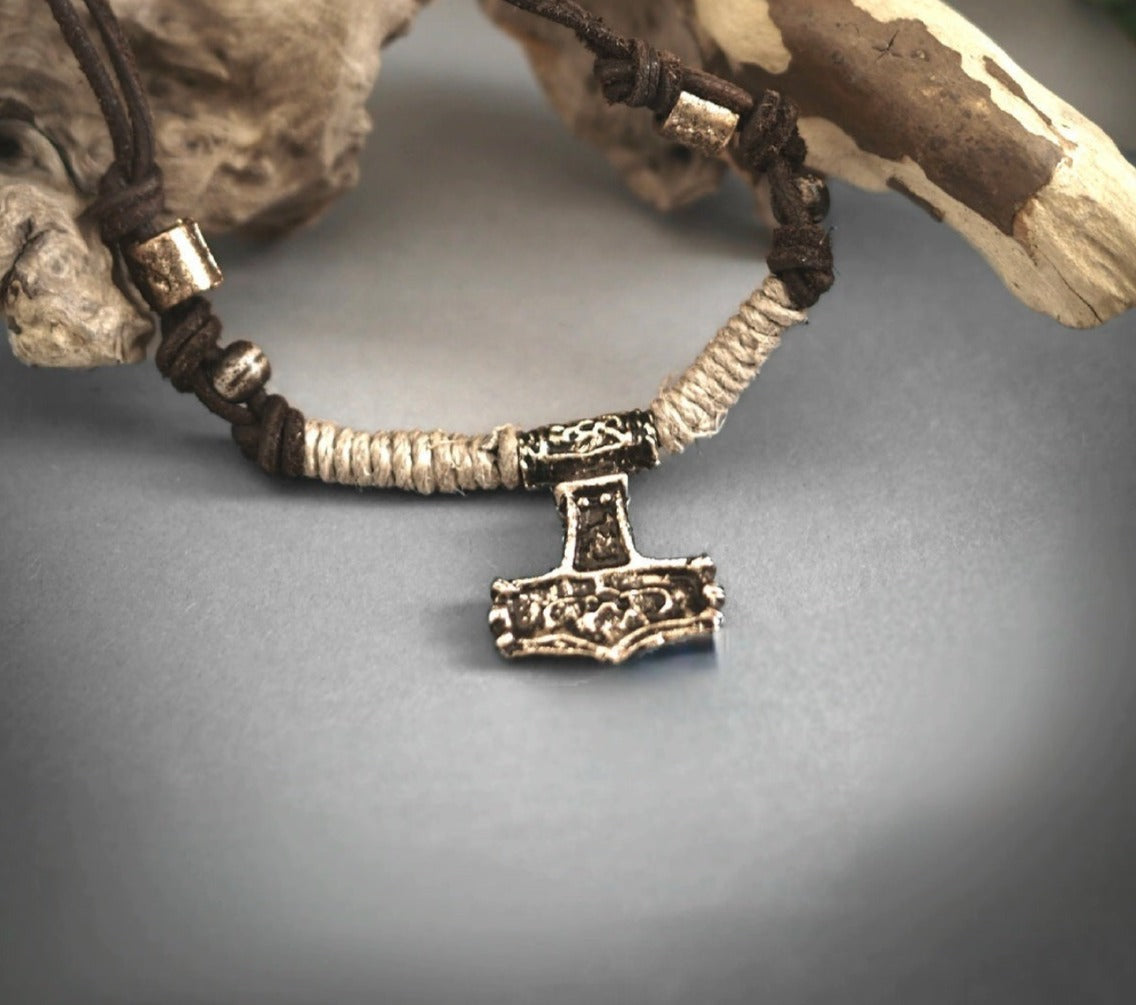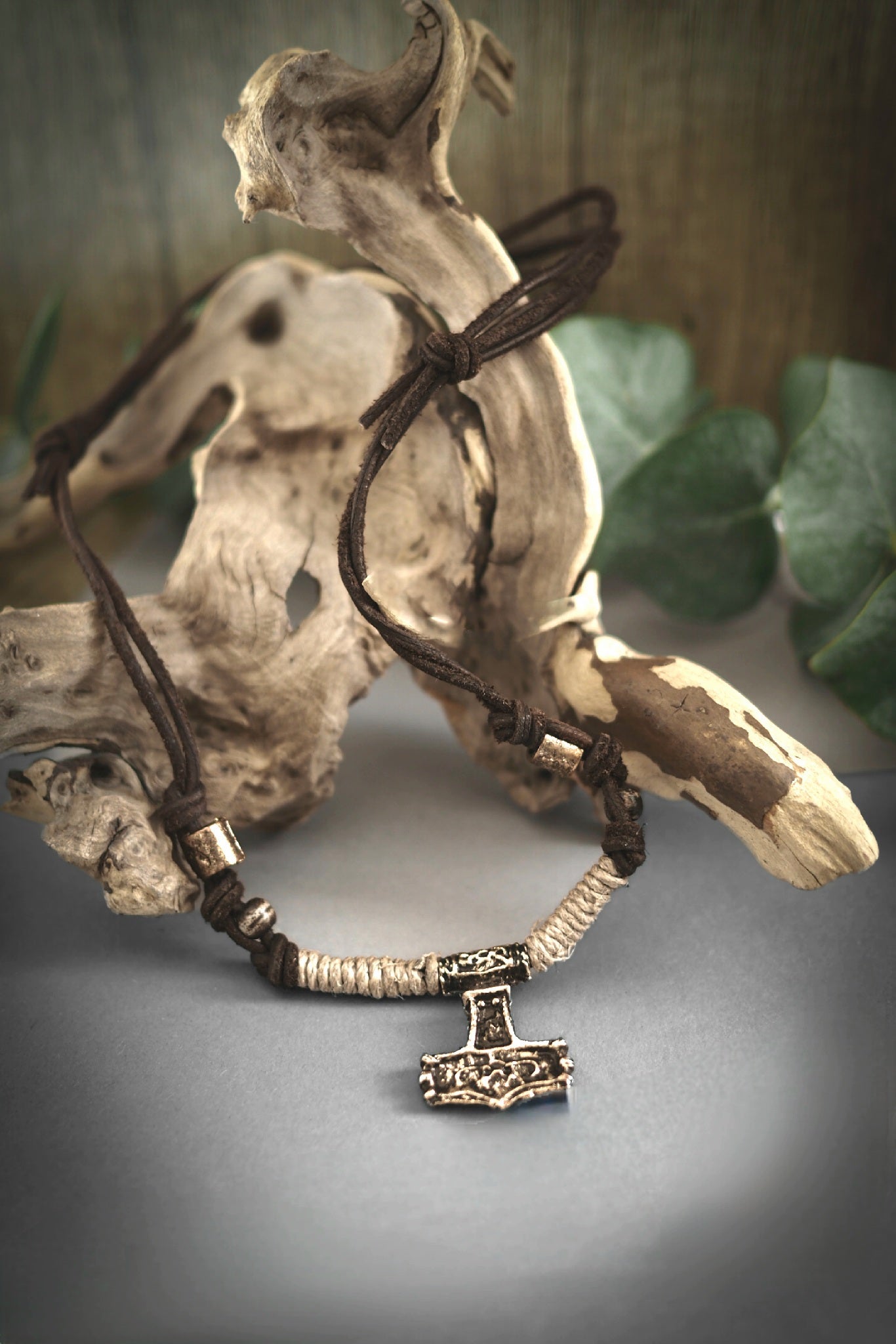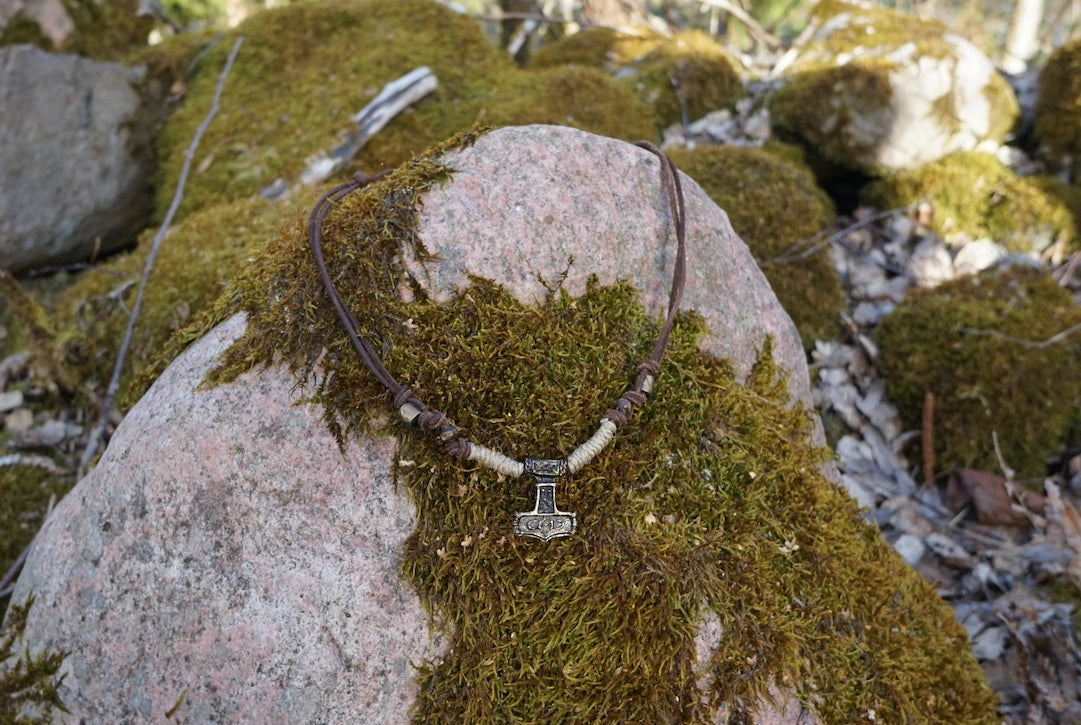 Necklace Mjolnir Bronze
A readymade necklace with Thor's hammer. We have framed the jewelry by decorating the leather strap with natural fibers and simple beads. A very popular piece of jewelry, in both pewter and bronze finishes. The size is adjustable with running knots.
The necklace is part of our design series of complete pagan necklaces, where we have combined various historical pendants with leather, bone and horn to create a Viking piece that suits everyone, then as now.
As organic material such as leather, wood and horn are not preserved in the ground over time, we do not know much about what the Vikings' jewelery looked like. What you find is the metal, stone and glass that has been preserved. With these necklaces, we have therefore created a vision of how these pieces of jewelery might have been put together and worn.
Dimensions and materials
Till hängen och andra metalldetaljer har vi använt en gjutlegering som är helt fri från nickel, bly och kadmium. Metallen har antingen en brons eller tenn finish.
Halsbandets längd/omkrets är anpassningsbar.
Shipping & returns
Free shipping within Sweden on all orders over SEK 699

Shipping costs:
Within Sweden SEK 69, Free shipping over SEK 699
Within the EU SEK 99, Free shipping over SEK 999
To Norway SEK 149, Free shipping over SEK 999

Right of return: Free return shipping and open purchase for two weeks.
Payment options
Debit card -Visa -Mastercard
Invoice and partial payment -Clear
Transfer -PayPal -Apple Pay -Google Pay
Sustainability & manufacturing
We at Nordlys always strive to do our best to have a chic production and to leave the smallest possible imprint on our planet. You can read more about our focus on the environment and people and about our thoughts on sustainability by navigating to the page Sustainability-Environment & People.
our history
Nordlys Viking is a family-owned lifestyle brand.
We create Scandinavian design inspired by the Vikings' world-famous design language. Nordlys is aimed at those of you who are quality and environmentally conscious and who like a Nordic expression. We turn to you, the urban Viking.